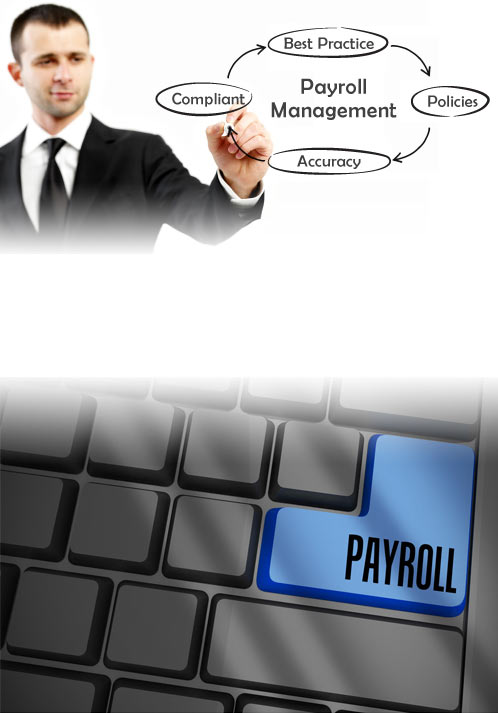 Facility Plus Services is one of the leading Payroll Management Companies in Delhi NCR, offers Payroll Management Services in Gurgaon for start-ups, small business and mid-size companies in India. Facility Plus Services manages all the Payroll processing and guarantees precision and timeliness at every stage of payroll processing. Employer can save time and money by Outsourcing Payroll Management.Top Payroll Outsourcing Companies in Delhi NCR - Choosing our Payroll Management solution gives you a fast, intuitive and an in-house system coupled with our superior processing and payment service. It allows you to increase effectiveness and provide a better service to your employees, with minimal change to existing operating procedures.
Our Payroll System unveils a wide range of Modules, foremost are –
PMS – Payroll Management System
CMS – Compliance Management System
HRMS – Human Resource Management System
ESS – Employee Self Service Module

PMS Payroll Management System
PMS (Payroll Management System) carry out the below functions smoothly & perfectly –  
Salary Calculation
Reimbursement Management
Loan & Advance Management
Over Time Management
Bonus Calculation
Full & Final Settlement
Tax Declaration (Manually or import Excel)
Investment Proof Submission
Gratuity Calculation
Payslips & Reimbursement Slips
Bank Transfer Sheet
Salary Register & various reports
Increment Module
Arrear Calculation
And many more
CMS Compliance Management System
Don't let compliance risks endanger your profitability & reputation. As an employer, you have to comply with many statutes and are expected to be updated on constantly changing legislations. This demands allocation of valuable time and resources and continuous monitoring to avoid penalties for non-compliance.

You can trust our expertise in statutory compliances related to employment to complement your existing payroll processes. We assist you to improve your process efficiencies and also help you reduce your time and costs. >
We take your payroll needs very seriously and will work closely with you to ensure your payroll is processed in a simple and timely manner so you can focus on what you do best—managing your business!
Human Resource Management System
Our HRMS System helps organization to achieve its objectives of optimizing human resources with maximum Employee Satisfaction. Unique features include –
Attendance Management
Employee Database Management
Leave Management
Company Policy Publishing
HR Reports like Offer letter, Appointment letter etc
Training Module
Shift Management
HR Helpdesk
Holiday Module
Transfer Module
Employee Birthday/Anniversary Prediction
ESS(Online Employee Self Service Portal)
Listed further down few of Employee Self Service (ESS) Module features –
Unique ID/PWD of each employee
Employee Profile – personal, organizational & salary information
Claim Reimbursement bills
Facility to make Tax Declarations
Submit Investment Proofs
Leave Applications
Pay slips, Tax computations, Leave & Attendance reports extraction
View CTC, Leave Status, Holiday list
HR Helpdesk
Business Trip Module
View Company Policies
Track Subordinate Attendance, Leaves, Weekly off
Income Tax Calculator
Loan & Advance Application
We take your payroll needs very seriously and will work closely with you to ensure your payroll is processed in a simple and timely manner so you can focus on what you do best—managing your business!

This service is delivered by our team of payroll specialists and includes legislative advice, tax year-end support and a programme of updates, covering topics such as changes in the budget and maternity pay.

Choosing an integrated solution today we offers you the benefits of increased efficiency and accuracy. It allows you greater control over and understanding of your human capital by unlocking the power of the data you hold. Giving you the additional option of implementing employee self service, it also frees up staff time to focus on initiatives that engage your employees and increase motivation and productivity, such as performance management, flexible benefits or training.

Designed for businesses of all sizes, Facility Plus Services; human resources and Payroll Management Services in Delhi NCR free you from administrative burdens and compliance worries, so that you can focus on what you do best and stay ahead of the compliance curve. Facility Plus is recognized as one of the top Payroll Management Companies in Delhi. Most preferred payroll outsourcing agency for companies in Delhi, Gurgaon, Noida and NCR!
Our best in class services help you to efficiently and effectively manage your HR and payroll data and stay on top of your payroll tax obligations. Whatever your HR and payroll administration needs, " Facility Plus Services" has the flexible solutions you're looking for. Contact Facility Plus for Payroll Outsourcing Services in Delhi and Payroll Management Companies in Gurgaon.
So, if you are looking forward to the best Payroll Outsourcing Companies in Delhi, Gurgaon or other NCR areas and India, Facility Plus Services is the right choice for the solution of the payroll management. If you are looking for reliable payroll management services in Delhi and NCR, then we are the Right choice for all your needs. By understanding our clients need, we offer tailor made payroll solution. Your search for the best Payroll Outsourcing Companies in Delhi ends here. It's time to save your precious time on payroll processing. We have a highly qualified and professional team to manage reimbursement, arrear calculation, final settlement of employees, salary MIS, managing attendance, calculation of leave encashment, overtime & generating monthly salary reports etc.
We Payroll Management Company in Delhi are here to support all your Payroll Management and compliance need.